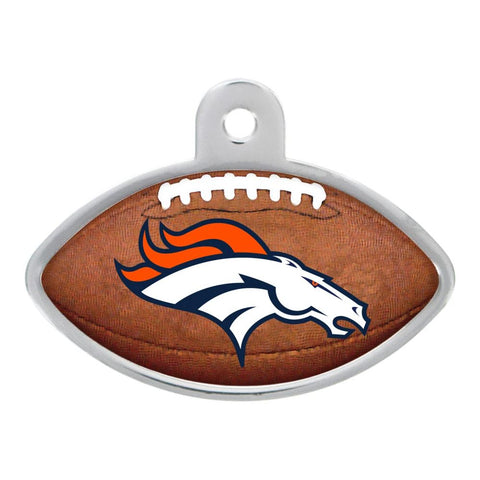 Denver Broncos Football ID Tag
Hillman Group
Denver Broncos Football ID Tag
Show support of your favorite team and keep track of your pet with this officially licensed NFL Denver Broncos football pet ID tag with FREE ENGRAVING. Measuring 1.78"L x 1.31"H, each tag is made of brass that is plated with chrome to give it a raised edge for durability and is printed with a UV cured design. A split ring connector is included with each purchase.
If frequent, easy collar changes are desired, consider the lobster claw styled connectors (sold separately).
Important Information:
Please note that the text will be CAPITALIZED block letters and automatically centered and sized for the best fit. The size of the characters changes with the number of lines and characters entered. Fewer lines and characters on a line result in larger letters and vice versa. Be aware that even one long line will cause the font size of all other lines to be very small since they must be sized to match the long line in order to look right, and a small font size is harder to read (e.g. it becomes harder to tell a "6" from an "8", etc).
If you are concerned about font size, consider abbreviating as much as possible (ST instead of STREET, N instead of NORTH, etc), leaving off punctuation marks unless absolutely necessary, and limiting engraving to only the basic, vital info needed to get your lost pet back. We are happy to engrave long texts, but simply want you to make an informed decision that it will cause a small font size. Tag may be engraved up to 22 characters per line and up to 4 lines may be used. You do not have to use all 4 lines, and you may purchase a blank tag.
*** Be sure to check that all spelling and numbers are correct as what is entered will be engraved. We cannot exchange or refund customer errors. Alert us immediately if you realize a mistake after submitting the order as we ship orders very fast! ***
Size Charts
Please make sure to measure your dog for accurate sizing before purchasing to ensure the best fit. If your dog is between sizes or is a growing puppy, always opt for the bigger size.
Read more about dog collars, how to size your pet and more.
Free Shipping
Free Shipping is available to the continental US for all orders over $39.
Customers also shopped for