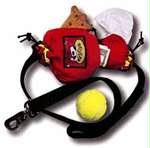 Leash Pack Deluxe, Large Royal Blue
Stylie Dog
Leash Pack Deluxe, Large Royal Blue

In our never ending effort to provide you with the most unique and innovative products, we bring you this little gem, "The Leash Pack". What a design! Just slip it over your leash and cinch it down. Holds plastic grocery bags, perfect for picking up those.....indiscretions. Also has plenty of space for your, let\'s see.... keys, money, ID, cell phone, toys, tennis ball and treats. Need I go on? We fell in love with this product and think you will too.

These are the perfect gift for your Dog lovin' friends. A 5 out of 5 on the Cool Meter!

Size Charts
Please make sure to measure your dog for accurate sizing before purchasing to ensure the best fit. If your dog is between sizes or is a growing puppy, always opt for the bigger size.
Read more about dog collars, how to size your pet and more.
Free Shipping
Free Shipping is available to the continental US for all orders over $39.
Customers also shopped for