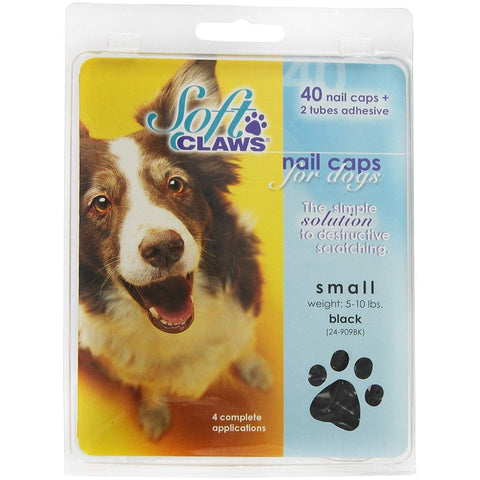 Soft Claws Nail Caps For Dogs - B...
Smart Practice
Soft Claws Nail Caps For Dogs - Black - Small
Developed by a veterinarian, Soft Paws nail caps are made in the USA using non-toxic vinyl. The nail caps are applied to your dog's nails using a non-toxic, cold-bonding, veterinary-grade adhesive, and are a completely safe and humane solution to dog scratching problems.
Soft Paws help protect against the following situations:
Damage to household surfaces such as floors, doors, screens, walls and furniture
Canine skin conditions that are aggravated by excessive scratching
Protects you and your loved ones from scratches from your dog
Each Soft Paws kit contains 40 nail caps, 2 tubes of adhesive, applicator tips, and easy-to-follow instructions. One kit contains enough for 4 front paw applications and each application lasts approximately 4 to 6 weeks, which makes each kit lasts approximately 4 to 6 months.
SIZE CHART
SIZE
WEIGHT
XS
5 lbs & under
Small
6-10 lbs
Medium
11-15 lbs
Large
16-20 lbs
XL
21-40 lbs
XXL
41-70 lbs
Jumbo
70 lbs & up
Size Charts
Please make sure to measure your dog for accurate sizing before purchasing to ensure the best fit. If your dog is between sizes or is a growing puppy, always opt for the bigger size.
Read more about dog collars, how to size your pet and more.
Free Shipping
Free Shipping is available to the continental US for all orders over $39.
Customers also shopped for