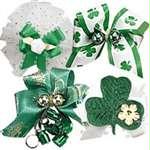 St. Patricks Day Bows, 2 pairs
Pet Edge
St. Patricks Day Bows, 2 pairs

Fancy Festive St. Patrick's Day Bows help you top off your holiday grooming with a little extra style! Pretty 2" bows are made from ribbon, netting and even tiny seed pearls! Each bow has an elasticized band for easy attachment. Individually handcrafted in the USA. Two different styles per package. Styles may vary from those shown.

Size Charts
Please make sure to measure your dog for accurate sizing before purchasing to ensure the best fit. If your dog is between sizes or is a growing puppy, always opt for the bigger size.
Read more about dog collars, how to size your pet and more.
Free Shipping
Free Shipping is available to the continental US for all orders over $39.