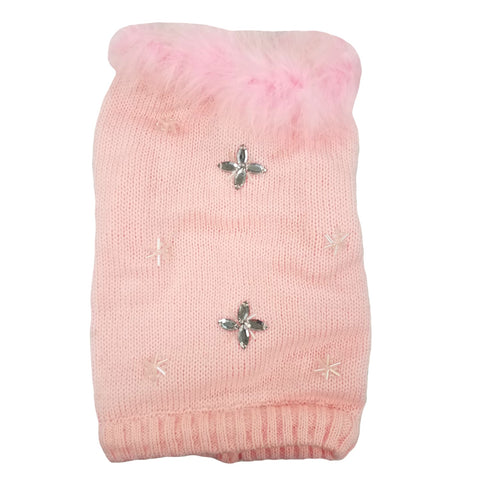 Bijou Sweaters with Feathered Col...
Pet Edge
Bijou Sweaters with Feathered Collars
CLEARANCE!  Only a few sizes remain! At Last! Versatility in a High Class, Go-Anywhere Fashion. New: the perfect sweater for pampered dogs, no matter what high-class event they're attending. Our extra soft, knit pullover Bijou Sweater features a removable feathered, snap-on collar that can be removed for more casual occasions. Each sweater gleams with beaded jewels in two colors. Hand wash in cold water (taking off the feathered collar. Line dry. Available in Candy Pink or Winter Blue.
Sizes:
XSmall - Fits Backs up to 8", Fits Necks 7"-10", Fits Chests 12"-14"
Small - Fits Backs 8"-12", Fits Necks 10"-13", Fits Chests 14"-18"
Medium - Fits Backs 12"-16", Fits Necks 13"-16", Fits Chests 18"-21"
Large - Fits Backs 16"-20", Fits Necks 16"-20", Fits Chests 21"-26"
XLarge - Fits Backs 20"-24", Fits Necks 20"-22", Fits Chests 26"-28"
Sizing: For proper fit, measure length of pet's back from base of neck to base of tail. Sizes are in inches. If measurement falls between sizes, or if your pet has a stouter build, select one size larger. IMPORTANT: MAKE ADJUSTMENTS FOR YOUR DOG'S BUILD AND WEIGHT. See below for typical breed sizes:
XSmall: up to 8" (Australian Terrier, Chihuahua, Pomeranian, Toy Poodle, Yorkshire Terrier)
Small: 8"-12" (Boston Terrier, Brussels Griffon, Jack Russel Terrier, Lhasa Apso, Maltese, Miniature Pincher, Norfolk Terrier, Papillon, Pug, Silky Terrier)
Medium: 12"-16" (Beagle, Bichon Frise, Cocker Spaniel, Corgi, Scottish Terrier, Shih Tzu, West Highland Terrier, Whippet)
Large: 16"-20" (Brittany Spaniel, Bulldog, Border Collie, Collie, Miniature Schnauzer, Springer Spaniel)
XLarge: 20"-24" (Australian Shepherd, Border Collie, Dalmatian, Golden Retriever, Vizsla, Weimaraner)
Size Charts
Please make sure to measure your dog for accurate sizing before purchasing to ensure the best fit. If your dog is between sizes or is a growing puppy, always opt for the bigger size.
Read more about dog collars, how to size your pet and more.
Free Shipping
Free Shipping is available to the continental US for all orders over $39.
Customers also shopped for